Prequalification Notice – English                                                       Prequalification Notice – Urdu
General Instructions (for Vendors)                                                    Terms & Conditions
Downloads
---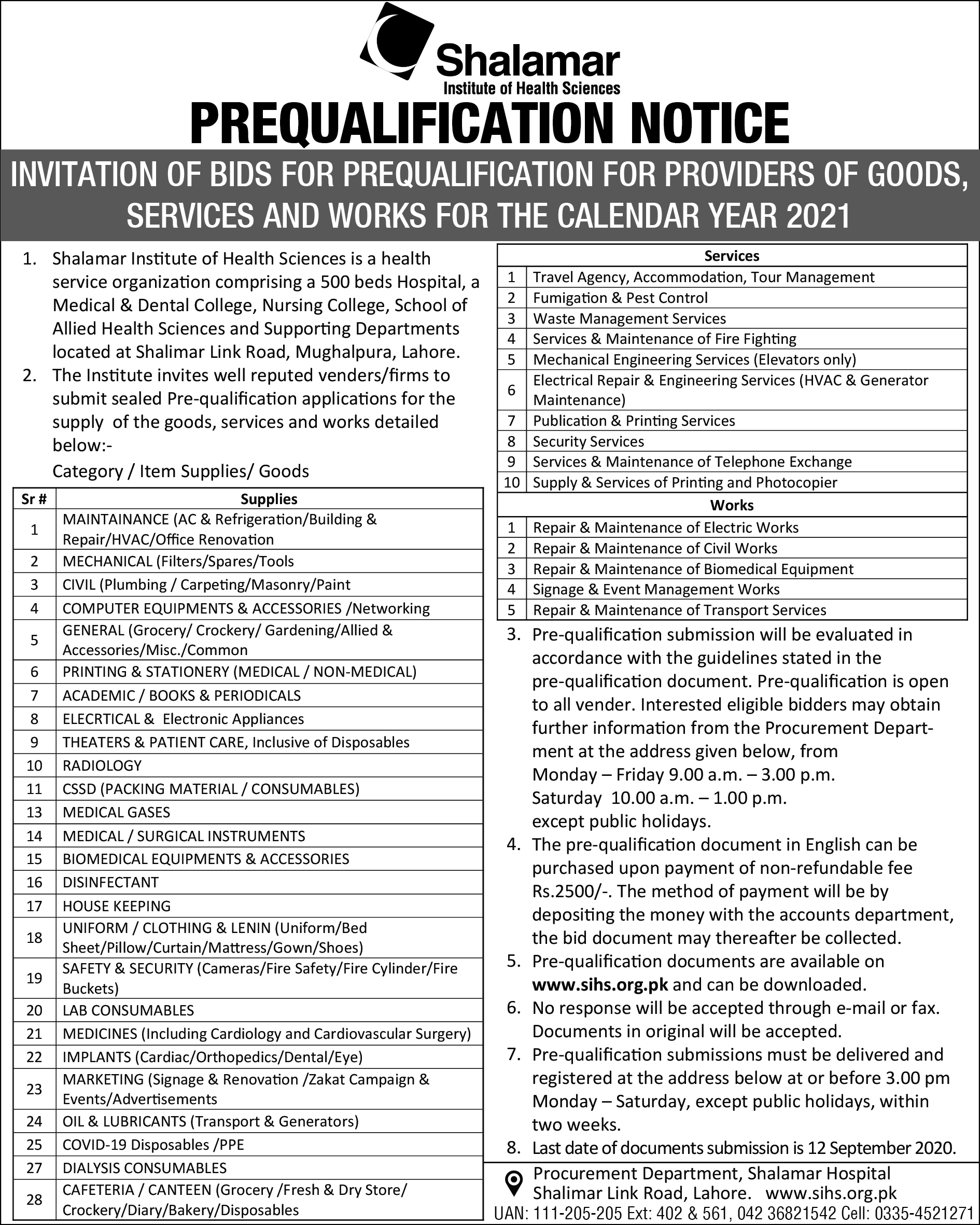 ---
---
General Introduction (for Vendors)
Businessmen Hospital Trust (Shalamar Hospital) is a charitable trust hospital working in health sector on Shalimar Link Road, Mughalpura Lahore and providing services since 1984.
Businessmen Hospital Trust has constituted Shalamar Hospital, Shalamar Medical & Dental College, Shalamar Nursing College and Shalamar School of Allied Health Sciences working under management of SIHS. SIHS is also running its own cafeteria which is providing food to patients and staff on subsidized rates.
Businessmen Hospital trust is exempted from sale tax under ­Sixth Schedule, serial Number 52A of Sales Act 1990.
Shalamar Hospital is 500 bedded hospital, recognized by the Pakistan Medical & Dental Council & College of Physicians & Surgeons Pakistan; instituted and run by Businessmen Hospital Trust.
Shalamar Hospital provides free and subsidized medical treatment to 600,000+ deserving patients per annum. Shalamar Hospital also arranges Free Medical Camps in rural areas of Lahore on regular basis.
---
TERMS & CONDITIONS FOR PRE-QUALIFICATIONS & POST QUALIFICATION PROCUREMENT
Prequalification form and list of required documents for Prequalification are available and can be obtained from the office of Procurement Department.
The bidder shall produce the following Documents/certificates.
List of Hospitals /other institutions the company is making supplies.
Authorization from the manufacturer/Importer appointing the Bidder as their authorize Distributor/ Agent or Dealer.
Bidder specialized in foreign origin item will produce local agent certificate from their principal/Foreign Manufacturers. This will be in addition to the requirements mentioned in paragraph 2 above.
The bidder must fill in the required information on Pre Qualification form provided with the Tender Documents.
Following additional documents are required along with Pre-Qualification form:- 
A Compliance certificate including Name title, fax number, contract number & Email address of your authorized representative duly signed & stamped by a designated officer of your Firm/company.
An affidavit on legal stamp paper worth Rs.100, to the effect that the firm/company has not been blacklisted by any Government/Semi Government organization & there is no ongoing litigation against the firm/company.
Certificate indicating your status as Manufacturer / Fabricator / Agent to Foreign Principal/ Importers / Stockiest / Whole Seller /Retailer.
Bidder may participate in more than one category, on separate forms.
Certificate of company / Firm / Contractor Registration / Incorporation under the laws of Pakistan.
Valid Registration Certificate for Income Tax & Sales Tax.
VENDOR PRE QUALIFICATION DOCUMENTS (CHECK LIST)
Bank Certificate (Account maintenance certificate)
Client List ( On Letterhead)
Bank Statement (Last Six Months)
Business References (On Letterhead) Along with Purchase Orders
Products List (On Letterhead)
CNIC Copy (Owner/CE)
ISO/Local Certificates, Certificate Copy (If Any)
After Sales Service Certificate
Warranty Duration (Minimum and Maximum)
Warranty type i.e. Replacement, Spares, and Services.
All items to be supplied shall confirm the established quality standards.
Together with the quotation the bidder shall submit the refundable security of Rs 50,000/- as earnest money. The earnest money shall be in the form of Bank Draft or Pay order in the favor of Shalamar Hospital. No offer shall be entertained if received without earnest money.
Bidder will give an undertaking on His/her company's letter head that the quoted rate will be valid for one Calendar Year (January to December), extendable for three months with the mutual consent of both parties. No price increase will be asked/allowed during this period (See Special Instructions).
Hospital will deduct Tax on the payment of each supply as per the rule of Government of Pakistan/Punjab. Shalamar Hospital is exempted from sale tax under ­Sixth Schedule, serial Number 52A of Sales Act 1990.
All items will be supplied in Original Packing and according to ordered description. Expiry and Batch details must be mentioned on Delivery Challan as well as on bill/invoice.
Items supplied shall be inspected at the time of Delivery. Any item not confirming the specifications or is Sub standard or part worn out or not in proper packing will not be accepted and will be returned back to supplier on his risk.
Items supplied should bear a maximum shelf life of 80% however minimum of 24 Weeks shelf life shall be acceptable with an undertaking to replace the non consumed stock.
The competent authority reserved the right to delete/Add items or change the specifications anytime upon user request or own discretion.
The last date of submitting of quotations at Procurement office will be 15th day of receipt of RFQ after Pre-Qualification.
No quote is acceptable through Fax or Email. Quotation send by Post/ Courier should be in sealed envelope with company official stamp and should reach the Procurement Office well before closing date­­­­­­­­­­­­­­­­­­ intimated by Procurement Office Shalamar Hospital along with pay order of Rs. 2500/- in favour of Shalamar Hospital (non-refundable).
All queries during the process should be communicated via declared contact Person of Supplier and in writing only. Responses submitted via e-mail or fax will not be entertained.
Only 3 first lowest prices in first comparison of rates will be considered for rate revision/negotiation.
Rate revision/Negotiations are only allowed to the lower side of already quoted prices. Rate revision on upper side is not permissible.
All quotation will be opened in presence of Bidder representatives in Hospital Auditorium / any specified area.
Prospective applicants may seek clarification regarding scope of work and /or requirements of Prequalification, before receiving/submitting Prequalification form.
Special Instructions
Quotation Documents:-

Bidder shall offer the quotes and provide the samples of quoted items on the prescribed quotation and sample submission form.Samples will be accepted only if mentioned on Sample Submission form and all samples should be individually tagged with company name by removable stickers. Samples should not be marked with permanent Ink.
After completing the Bid take the print and drop it into the Drop Boxes marked with Tender Category in Procurement Office on or before the due date.
No tempering in the quotation document is allowed. The bidder will put His/her signature on each page along with Company Official stamp.
This Tender is open for all participants. The selection of items shall be made on the principles of quality. Good manufacturing standards, Repute of items, competitive price and easy availability.

Item Description:-

List of items will be provided to Pre-Qualified suppliers.
All bidders shall quote for the required items only.
All bidders shall quote according to required Pack size specified against each item.
All bidders will quote the same items giving detail of Make, Brand, Manufacturer and Country of Origin.
No quote will be entertained if Make, Brand, Manufacturer and Country of Origin are not clearly mentioned.
Unit price is the price of the each quoted unit. Pack price shall be separate than the unit price.
The rate contract will be Valid for the Calendar Year and extendable for three months with the mutual consent of both parties.
No price increase shall be allowed during the Rate Contract Period.

Earnest Money:-

No offer will be entertained if received without Earnest Money (Rs. 50,000/-).
Unsuccessful bidder can request for the withdrawal of the Earnest Money after 2 Weeks from the award of the contracts.
Tender awarded Vendor may apply for refund of Earnest Money upon completion of Tender Period with an undertaking that in case of expiry, the delivered/ supplied items will be replaced with longer shelf life items.

Supplies/Deliveries:-

Supplies /services should essentially be according to approved Sample/agreed terms.
Unless otherwise agreed all supplies against the purchase orders will be delivered at Main store at Shalamar Hospital Lahore.
Supplies can be requested in bulk or in pieces throughout the year in accordance with the received demands.
In case of rejection, it will be at suppliers risk and expense.
Substandard and Delayed Supplies make Supplier liable to remedial action which ranges from Caution/warning- Rejection-Financial Penalties or Disqualification.
Payments are made according to agreed schedule after successful installation of equipment/endorsement of GRN of received material by Store Department

Non Supply/Delayed Supply of awarded items:-

In case the selected supplier fails to execute the order in specified period as mentioned in purchase order without any justified reason, then there will be no other option but to revert to alternate buying while the extra cost on alternate buying shall be covered from the contract awarded supplier from his pending invoices / earnest money. Moreover, the item can also be awarded to any other supplier on the discretion of COO Shalamar Hospital.
COO Shalamar Hospital has the right to allocate/ purchase the awarded items from any other source during the tender period if the supplier is unable to supply the awarded item within the specified time and this cannot be challenged in any court of law.

Important Notes regarding Sampling:-

All bidders will provide the samples of frequently used items in the sealed card box with the list providing complete information i.e. Description, brand name, manufacturer, country of origin, pack size etc. of all quoted items submitted for evaluation. Without providing these basic information sample will not be evaluated.
No quotation is valid without evaluation of sampling process. Complete packs of samples should be submitted with company name tags on each item by removable stickers. Samples should not be marked with permanent ink.
No loose samples in numbers will be accepted.
Samples should be submitted with quotation within 1 month of receiving RFQ. No sample will be accepted after this date.

Confidentiality of Rates:-

All final awarded rates of bidders shall be kept confidential.
Bidder must submit the acceptance of these Terms and Conditions by submitting a duly signed and stamped copy of all Terms & Conditions mentioned above with their Tender documents/ Quotations.
Management reserves the right to accept/reject wholly or partially any response or cancel the Process at any stage of Prequalification / Post Qualification Procurement without assigning reason.
For any other information please contact Procurement Office, Shalamar Hospital.
Direct: +92-42-36821542, Cell: 0335-4521271
UAN:    +92 42-111-205-205, EXT 402 & 561
Email: tenders@sihs.org.pk