Introduction
This is a medical library serving the faculty, students, researchers and staff of the Shalamar Medical & Dental College (SMDC), Shalamar Hospital, Shalamar School of Allied Health Sciences and Shalamar Nursing College. This library established in 2009 in its present place. The library has established its repute among medical institutions by providing excellent services and facilities to fulfill information needs of its clients according to the recommendation of Pakistan Medical & Dental Council (PM&DC)/ Pakistan Medical Commission (PMC) and University of Health Sciences (UHS). The materials including on medical text books, reference books, e-books, journals, literature, audios, videos, CD-ROMs, DVDs, etc. which is ideally suited to encourage and support both curriculum activities and for medical research.
The library is manned by qualified and experienced professionals, all dedicated to provide high quality innovative services.
Mission
To facilitate the users with latest collection of Books and provide the access of e-resources on their desktop without any discrimination.
Vision
The SIHS libraries believe that quality information is essential for improved health. The aim of libraries to provide the most valued visible, authentic, and trusted information by library experts. The libraries try to enhance the quality medical education material, health sciences literature, and research throughout the Globe. The medical and health sciences library aims to provide the highest standard services to support the education and research program of the medical college, hospital, nursing, and allied health sciences school.
Core Values
Develop and manage a knowledgebase of health information research by:
Promoting the research culture in the medical and health care profession.
Providing the latest collection and data related to the disciplines.
Supporting collection and use of data related to promoting the profession.
Facilitating the health care students and professionals to use the advance information technology for information retrieving and sharing.
Encouraging the application and dissemination of scholarly knowledge.
Objectives
To develop a comprehensive collection policy on current medical literature for SIHS researchers.
To provide access to information in any format (print and electronic from) to support the programs and research needs of the medical college allied health sciences, hospital, and college of nursing.
As primary information provider, it serves as leader in acquiring, evaluating and applying technology for managing and providing information.
It provides support for personnel training and development within the scope of the changing technological environment.
Library Guide
The Library Guide provides the access of scholarly databases, electronic resources, eBooks, e-journals, theses and medical and health science literature at one place. The MBBS, allied, nursing students, health care professionals, medical professionals, allied health sciences professionals, nursing faculty can get access the library guide with in campus and out of campus. Each guide facilitates you to acquire your desired knowledge and literature through the most useful web links and resources on your subject area.
Medical Sciences, Nursing, and Allied Health Science
Books
HEC Resources

Open Access Resources

 Search and preview millions of books on medical sciences from libraries and publishers worldwide.
https://muse.jhu.edu/
PDF Drive is a free search engine which allows you to search, preview and download millions of PDF files into your devices. Our crawlers are constantly scanning the world wide web to add PDF files to our database.
For the first time, Springer's Ebooks are available on perpetual access i.e. fully downloadable. These books cover a wide range of disciplines published during 2005-2007. These books are available for all public/private universities recognized by HEC.
https://link.springer.com/
Search and preview millions of books on medical sciences from libraries and publishers worldwide.
ebrary offers the most flexible options for acquiring eBooks and other authoritative content from the world's leading publishers. ebrary offers an increasing selection of more than 142,000 e-Books of 220 distinguished international publishers
http://www.digitallibrary.edu.pk/Ebrary.htm
EBOOKEE is a scientific community targeting collection of e-books on medical science disciplines
Wiley-Interscience is an STM (Science, technology, and Medicine) and SSH (Social Sciences and Humanities) publisher. Introduced in 1997, Wiley InterScience is a leading international resource for scientific, technical, medical and scholarly content.
https://onlinelibrary.wiley.com/
 
Magazines and Literature
HEC Resources

Open Access Resources

Wiley-Interscience is an STM (Science, technology, and Medicine) and SSH (Social Sciences and Humanities) publisher. Introduced in 1997, Wiley InterScience is a leading international resource for scientific, technical, medical and scholarly content.
https://onlinelibrary.wiley.com/

PubMed is a free search engine accessing primarily the MEDLINE database of references and abstracts on life sciences and biomedical topics.
https://www.ncbi.nlm.nih.gov/pmc/
For the first time, Springer's Ebooks are available on perpetual access i.e. fully downloadable. These books cover a wide range of disciplines published during 2005-2007. These books are available for all public/private universities recognized by HEC.
https://link.springer.com/
BioMed Central is a United Kingdom-based, for-profit scientific open access publisher that produces over 250 scientific journals.
https://www.biomedcentral.com/
Lippincott Williams & Wilkins (LWW) started in 1792 and  It provides professional information resources for physicians, nurses, specialized clinicians and students. It publishes over 275 journals, newsletters and loose-leaf products, including many of the industry's most respected titles. It is the publishing partner to more than 60 pre-eminent medical societies and offers high quality content and expert capabilities in editorial innovation.
he Directory of Open Access Journals is a website that hosts a community-curated list of open access journals, maintained by Infrastructure Services for Open Access
https://doaj.org/
More than 1,300 titles in humanities, social sciences and applied sciences
http://www.tandfonline.com
Free Medical Journals disseminate peer-reviewed scholarly and academic articles that are based on novel achievements and research findings in the field of medical sciences.
http://www.freemedicaljournals.com/
Theses and Dissertations
HEC Resources

Open Access Resources

Pakistan Research Repository: Includes MPhil and PhD thesis produced in Pakistan, often available in full text.
http://prr.hec.gov.pk/jspui/
Columbia University's provides the full text of open access dissertations and theses free of charge. You can quickly and easily locate dissertations and theses relevant to your discipline.

https://academiccommons.columbia.edu/search?utf8=%E2%9C%93&search_field=all_fields&q=medical

PQDT Open provides the full text of open access dissertations and theses free of charge.You can quickly and easily locate dissertations and theses relevant to your discipline.
https://pqdtopen.proquest.com/search.html
UKnowledge provides full text ,open access dissertations and theses free of charge. You can quickly and easily locate dissertations and theses relevant to your discipline.

https://uknowledge.uky.edu/do/search/?q=medical&start=0&context=1674591&facet=

The University's institutional repository, Apollo, holds full-text digital versions of over 5,000 Cambridge PhD theses and is a rapidly growing collection deposited by Cambridge Ph. … graduates (The University expects to hit 6,000 theses in the repository by the end of 2018.)

https://www.repository.cam.ac.uk/handle/1810/221919/discover

DART-Europe is a partnership of research libraries and library consortia who are working together to improve global access to European research theses. Their aim is to encourage the creation, discovery and use of European e-theses, and to maintain a central Portal for e-thesis aggregation and access.
 
Open Access Theses and Dissertations
HEC Digital Library & Research Guide
HEC Digital Library
HEC National Digital Library (DL) is a programme to provide researchers within public and private universities in Pakistan and non-profit research and development organizations with access to international scholarly literature based on electronic (online) delivery, providing access to high quality, peer-reviewed journals, databases, articles and e-Books across a wide range of disciplines. The e-books support programme will allow researchers to access most of the important text and reference books electronically in a variety of subject areas. Around 75,000 number of electronic content has been made available through the Digital Library Programme.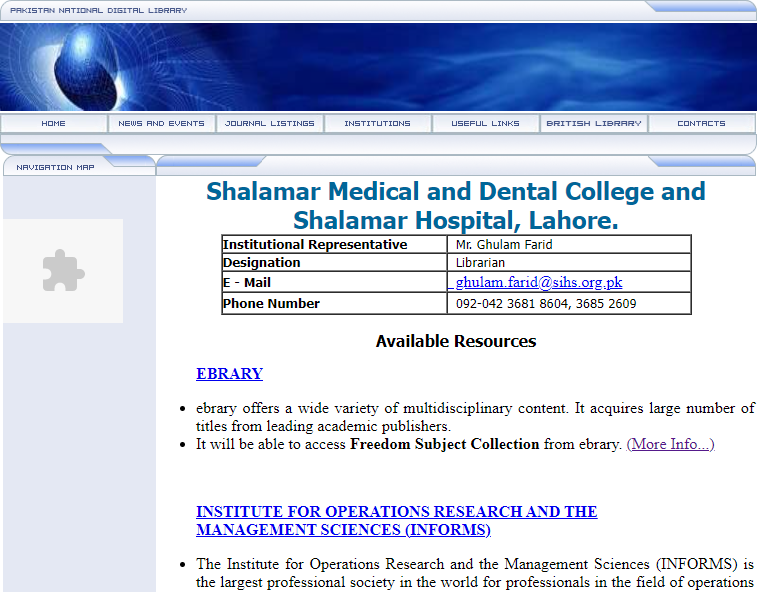 Institutional Repository
An institutional repository is an archive for collecting, preserving, and disseminating digital copies of the intellectual output of an institution. Click here to view.
HEC Recognized Journal System
HEC Journal Recognition System (HJRS) is a collection of research journals that are categorized into three different categories – W, X and Y — within their respective knowledge areas on the basis of a number of internationally bench marked and recognized parameters that measure the quality of a journal.
Vancouver Style
Vancouver is a numbered referencing style commonly used in medicine and science, and consists of:
Citations to someone else's work in the text, indicated by the use of a number
A sequentially numbered reference list at the end of the document providing full details of the corresponding in-text references.
It follows rules established by the International Committee of Medical Journal Editors, now maintained by the U.S. National Library of Medicine. It is also known as Uniform Requirements for Manuscripts submitted to Biomedical Journals.
This guide is modeled on Citing Medicine: The NLM Style Guide for Authors, Editors, and Publishers (2nd edition). You may wish to consult this source directly for additional information or examples.
Printing this guide: Please note that printing directly from pages in this guide may alter the citation formatting display. A printable document is available below. Note that this document is adapted from this online guide and does not contain all information and examples. Please use it in conjunction with the online guide which is more regularly updated
Library Services and Information
Library Books: 10,000
Subscribed international Journals from 2014-2021: 15
Subscribed local journals from 2014-2021: 05
DVDs: 308
LCD: 01
DVD Player: 01
Sitting capacity for users (160)
Circulation of books (borrow, return)
Reading the books
Reading the research journals
Use the multimedia
Connectivity of Internet
WiFi Connectivity
Digital Library/ IT (75 stations)
Access of HEC Digital Library
Searching and Access of Databases
Usage of Library Guides
Search the Union Catalogue
Access of Digital Library
Institutional Repository
Training and Workshops
Library had conducted large number of workshops and training for MBBS, Nursing and Allied Health Sciences students, faculty, staff and researchers. Some details of workshops are mentioned below:
Open Access of Medical Resources and Qualitative Research Analysis (N-Vivo)
Literature Search, Citation Management and How to Write and Publish a Research Paper
Critical Reading of Research Articles, Systematic Literature Review, Mixed Methods Research and Analysis
Library Resources and Green Environment
Library Orientation for new students
Information Services
Turnitin (Anti Plagiarism Software for Researchers)
Library Guide
Literature Search
Citation Management
Reference Service
Circulation
Current Awareness Services
Inter Library Loan
Archives of E- Journals
E- Books
Photocopy Services
Printing & Scanning
Institutional Repository
Union Catalogue
Reference Services through Help Desk
An active help desk provides efficient and reliable services under the supervision of professional librarians. Users may make queries by in writing, telephone, fax and E-mail: library@sihs.org.pk
Book Lending
All registered users are entitled to borrow books. Lending privileges differ for various categories. Please inquire at the circulation desk for your eligibility. Books renewal and reservation services are also available. To borrow books, please present your college card at the circulation desk.
CD-ROM & Online Searching
Seventy Five terminals are dedicated for electronic and online database searching including full-text information, abstracts, indexes, and international conference proceedings.
Searching Assistance
In case an item is not located in its place; inquiry can be made at the circulation/ reference desk. A search will then be initiated and the user will be notified when the required item will be found is located. The located item will be held at the circulation/ help desk for one day for the user to pick up.
Electronic Document Supply
If a document or a journal article is not available in SMDC library or locally, the library has arrangements to provide it through international sources electronically. The library provides it through the Internet by paying charges to the service providers. This electronic document supply service has been designed to support research projects (Only for registered users).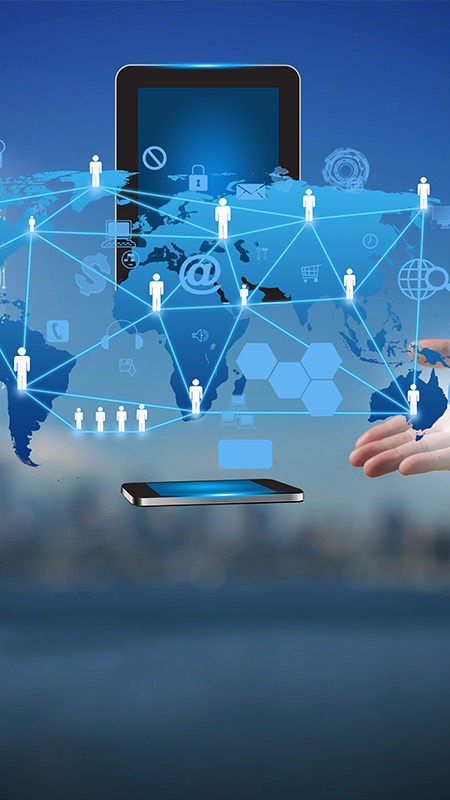 Library services through Intranet
SMDC library has its personal drive named as "Journals on SMDC05 (J 🙂". This drive contains complete information about:
Library policies
Library Services
E-Books
Archives of E-Journals
Access of UHS Digital Library
Access of HEC Digital Library
List of available books and journals in print format
Library forms
Reprographic Services
One photocopy machine is situated in library circulation section. The member will pay the photocopy and printing fee.
Wi-Fi
Wireless connectivity to internet is available at library Hall, library users are allowed to use their personal Laptops /notebooks in library Hall while using library materials.
Inter-Library Loan (ILL)
If a particular item is not available in library collection, the library has arrangements to acquire from other medical libraries, both within the local and in other cities. ILL request forms are available at the circulation desk. ILL facility duration is 15 days and after issuing twice reading material will come back in the central library and then same required material will re-issue or re-borrowed on new demand .ILL form is available on reference desk. Approval of College Principal is must before submission process.
Information Literacy
The library provides a wide range of services to its users and enables them to use the library with its optimum potential and how to find required data from print and electronic resources. The mentioned services are part of information literacy program:
Library Guide for SIHS researchers
E-Journals
E-Books
Online Databases
CDs/DVDs
Press Clippings
Print Journals
Library Website
Internet Lab Unit
In order to keep pace with technological advancement especially with the boom in Information Technology an Internet Lab. The computer lab has 75 work stations with the facility of internet.
Internet Service Rules
Only a member of the library will be eligible to get the registration.
Users are allowed for browsing, surfing and searching the academic and research material.
Users will be liable to pay for any damage to the system or any other damages.
Chat and messengers and social media are not allowed.
Users will be penalized for browsing obnoxious material and for misconduct by the competent authority and their Internet privileges shall be revoke.
Forms
Library Forms
Journal Suggestion Form
Books Suggestion Form
Students Membership Form
Faculty Membership Form
AV Room Booking Form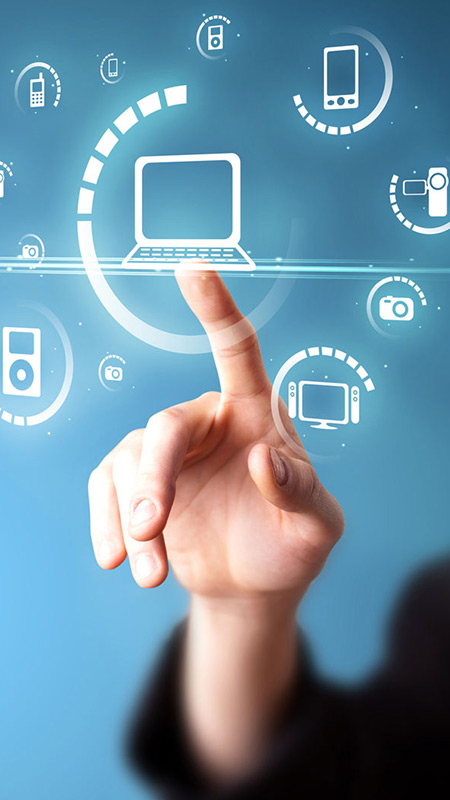 Library Rules
General Rules for Library Users
Users are expected to observe the following rules while using the library services.
Leave your personal belongings such as handbags, briefcases, etc., at library entrance, on your own responsibility. The library disclaims any liability for loss or damage.
If any library user wants to use his/her personal reading material, then he/she must inform to the Library staff.
Submit any book or object for inspection, when requested by the library staff.
Complete silence should be observed except for brief and subdued talk with the library staff.
Library furniture cannot be moved from one place to another.
Do not use the chairs for placing your feet on.
Do not write, underline or mark any book. Library books are carefully examined on return and the borrower will be held responsible for the damage.
A Books suggestion form is kept in the library in which suggestions for new books are invited.
After reading, leave books on the table or on the book trolley. Please do not shelve the books. Library staff will reshelf them.
Discussions and meetings are not allowed in the library.
If any library user disturbs the study environment for other library users, he\she will be given a verbal warning, if despite the warning, the user repeats the same attitude; he/she will be debarred from entering the library premises for a day.
Books are liable to be returned before the date, if required for some special purpose.
The borrower card is not transferable.
Books borrowed from the library are not transferable.
Books will be issued strictly according to the priority of demand.
Books will not be issued without library card.
The Librarian is authorized to withdraw library facilities from any member who is found misusing the library material or facilities.
Cell phones should be on silent mode within the library premises.
Smoking is strictly prohibited inside the library.
Drinks and eatables are not allowed in the library.
Any person, who loses, defaces or otherwise seriously damages books, shall be liable to pay the cost of the replacement and in the event of the book being one of the set or series, the cost of whole set or series shall be paid by the person.
Only registered library users can use the library.
Library Timings
Library will remain open from 8:00 am – 12:00 midnight from "Monday to Saturday".
Library also open on Sunday from 10:00 am to 5:00 pm.
Library will remain closed for one week for Annual Stock Verification by Special Notice.
Library Help Desk provides services from 8:00 am to 10:00 pm.
Library will remain closed for Jumma Break from 1:00pm to 2:00pm.
Note: Library opening hours may be subject to change. Contact library for exact hours.
Lending Rules for Users
Registered users must produce valid Library ID cards when borrowing materials. Borrowing must be done in person at the library circulation desk.
Overdue books will not be reissued till the fine is paid.
Reference material & CDs, are not to be issued.
Periodicals/ Journals cannot be checked out, and can only be consulted within the library.
Books already checked out by some other user can be reserved, if the books are not collected within two days, the reservation will be cancelled.
Books will be issued for one month during professional MBBS annual exam and the clearance will be made after promotion in next class.
If a member misplaces a book/ Library material and cannot find it after a thorough search, he/she must report to the library immediately to avoid overdue fine.
Mutilation of library material is a matter of disciplinary action. Books accidentally damaged should be reported so that suitable assessment can be made & damages paid.
Books may be renewed in person at the circulation desk, provided they are not required by another user.
The library staff may recall, or withhold the circulation of a book in the library at any time if required for special purposes.
If you are unable to find any material you require, feel free to contact library staff.
Borrowing Limit & Period
Name of Category

No. of Books

Time Period

Principal

As per demand

6 Month
Head of Departments
(On the behalf of departmental library.)

05

3 Month
Departmental Library

As per UHS & PMDC Policy

One Year
Professor

05

30 Days
Associate Professor

04

30 Days
Assistant Professor

03

30 Days
Demonstrator/Lecturer

02

15 Days
Students

02

15 Days
Students

02

30 Days during Professional Exam
Non-Teaching Staff

02

15 Days
Fine
The violation of the library lending rules may result in the following fines.
A borrower (student) who fails to return the library books or any other material on due date, will have to pay fine of Rs. 10/- per day will be charged after the due date.
In the case of book loss or defacement by a user, he/she will be charged three times /triple the current price of the book or replace the three books plus a 10 per cent processing fee.
The senior librarian/ Incharge Library will decide the price of rare/special books. Member will not mutilate, or damage by writing or marking on pages, any book or publication, nor shall they trace or perform mechanical reproduction of a material belonging to the library without formal permission of the librarian/ Incharge library, violation of this rule will require replacement of damaged volume or payment of its price specified under the rule.
If one volume of a set/ series is damaged and it is not available separately, the whole set will have to be replaced or paid by the member as specified in the rules.
The amount recovered from member as cost of lost or damaged books or materials or for not returning the books after due date will be spent for the welfare or development of library.
Ask a Librarian
Show your Student/Faculty card at the entrance/reception or when asked by PAKL staff for proving your ID.
Do not bring any valuable item in the Library. Bags, extra books, boxes etc should be left at the lockers room outside the Library. PAKL shall not be responsible for any loss of item left unattended by a member.